One of the many questions I get about my daughter and her hair is how did I get it to grow? As most of you remember when I first had Chasity she didn't have much hair but headbands and big bows made it less noticeably of her "short" comings at that moment in her life. The one thing I tell people is…. she was a newborn of course she was not going to have hair at that time and even when she turned one she still didn't have much hair but I still washed it and kept it moisturized.
However, over time her hair did begin to grow and these are some of the products I use on her hair, nothing expensive or crazy and I wash her hair maybe 2-3 times a year: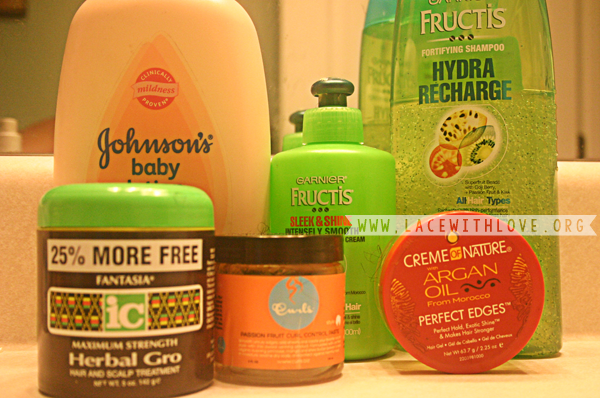 1.
Fantasia IC Maximum Strength Herbal Gro: This stuff smells amazing and I love that you can actually see the herbs within the grease.
2.
Garnier Fructis Hyrda Recharge Shampoo: Amazing Shampoo.
3.
Crème of nature Perfect Edges: Used to tame her edges, doesn't help.
4.
Curls Passionfruit Curl Control Paste: Used to tame her edges, doesn't help either so please let me know of some other options ladies I've pretty much tried every edge control possible (hicks included).
5.
Johnsons Baby Lotion: weird I know but that's all I use to use on her hair as a baby and it grew before I started this routine, keeps her hair VERY moisturized.
6.
Garnier Fructis Leave in Conditioner for Sleek & Shine: I'm not a huge fan of this stuff seeing as though it flakes up in her hair no matter how much I massage or seal her hair up. I only use this if I am out of baby lotion.