So I decided to break down the months since I was unable to post every month displaying and letting you guys into the first year of mommyhood. The first 6 months breezed by however, it was quite a rollercoaster from breastfeeding to Chasity not being a friendly baby like I thought she would be.
Month One: In the first month Chasity had her days and nights confused so it took a minute to get her to adjust, the only way I could do this was by reversing the days and nights for her. During the day I would try my hardest to keep her up and then at night she would sleep ok but not fully through the night just yet. Which meant a lot of sleepless nights on my own but I would not trade them for the world. Breastfeeding was also difficult in the beginning, she latched on just fine but the pain I felt was hard to bare but I stuck it out as best I could.
Month Two: By month two Chasity was a little more active and talkative (baby cooing), she was sleeping through the nights, learning her hands, and getting a taste for foods now that her doctor said applesauce was fine. She also took her first bath & did wonderful.
Month Three: By month three Chasity was learning how to crawl and saying "hey", I don't think she realized that she was saying it but she truly was.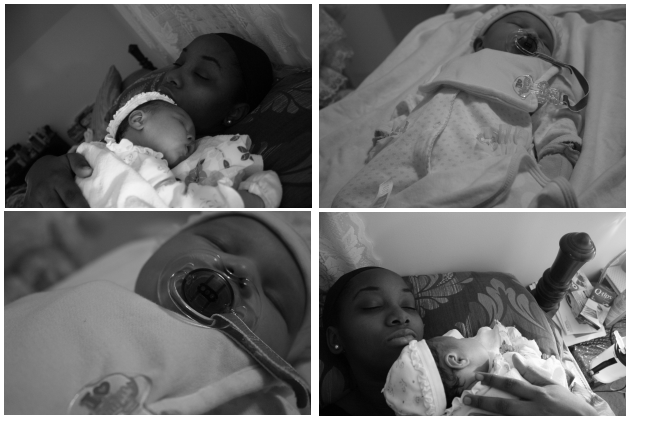 Month Four: She now had 2 teeth that grew in, crawling still wasn't coming easy however she learned to sit up by herself. This was maybe one of the trying months where she still did not like going to other people besides my mother or myself, I figured it was just because I was breastfeeding but baby's are smart and they know good from bad whether we want to believe it and I believe she could feel the spirit of others which caused her to act out.
Month Five: Chasity was introduced to her first cup.
Month Six: By the 6th month I started introducing Chasity to table foods, mashed potatoes and chicken since she wouldn't eat any of the meats in the jar. She was by now crawling and holding her own cup however, I was still breastfeeding :).
I have a ton of pics of her on Facebook, I tend to take a lot with my iPhone and camera but I didn't want to flood you guys with pictures since there so many.