1. Happiness. Being in love.

I don't think I've ever been in love in my life until I found out I was pregnant, this is a love that's unexplainable the only thing I can do is cry when I think of her. I feel like I owe her my life because she's given me such joy in such a short amount of time. The heartbeat, the kicks, the struggle of knowing I had to let go of something so foul to be blessed with something so beautiful. When people say you do not understand a mother's love until you become a mother, they are right.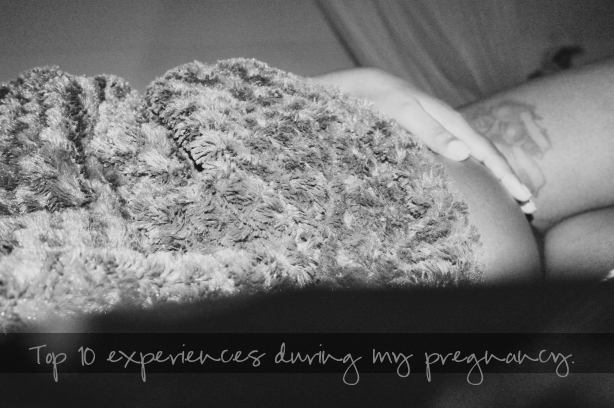 10. One thing I learned while being pregnant is that everyone loves to try to give you advice on how things will be but in reality
every woman and every pregnancy is different.
9.
Stress
. I did not have to deal with much stress during my pregnancy even though most people would have loved to see me stress or even go through some kind of bad emotions but I remained happy the entire time. I take this as a blessing whether I'm alone in this journey or not, this is my testimony.
8.
Gas
. I have stated this before and I'll state it again, gas is no joke in pregnancy. I believe it's a way that your baby communicates with you lol silly I know but I feel that is what she's doing and pregnancy gas is on a different level of funk.
7.
Work
. I seriously thought I would be able to work all the way up until my due date but I only made it to my 7 month when my back and other body parts begin to hurt from standing and being at work for long periods of time.
6.
School.
Do I continue my education? or do I take a break? I took the summer off to work and just enjoy the summer but as soon as Fall rolled around I was back at school however, online classes was really my only option since I walked 4-6 blocks when I was in school before pregnancy.
5.
Emotions
.
Most women experience dramatic mood changes or lashing out at people but I believe that my emotions stayed in tact for the most part. I wasn't happy with people or their way of thinking but I remained calm and not let others get to me with their stupidity.
4.
Dr. Appts
. One thing I hated was waiting for my doctor appointments when it was only once a month, time seem to go by so slow and I hated waiting to know what was going on with my bundle of joy and even me. I think my most scariest experience was when I was tested for diabetes in pregnancy.
3.
Food & Weight Gain.
Mind over Matter, most women believe because you are "eating for two" means eat everything in sight and you'll be just fine because "hey, you're pregnant" but with me I was afraid of weight gain. Before my pregnancy I wasn't the smallest thing walking around but for the most part I was happy with my size. However, when I got pregnant it made me self conscience about what to expect but luckily I've only gained the normal 18-20 lbs.
2.
Woman.
Are you ready to become a woman? Are you ready to give up your needs for someone else? I am.